Humanizing digital transformation matters
Cultural and behavioral challenges are the number 1 barrier to meet digital priorities according to a recent McKinsey survey. Functional and departmental silos, fear of taking risks, and difficulty forming and acting on a single view of the customer are the 3 main digital-culture deficiencies.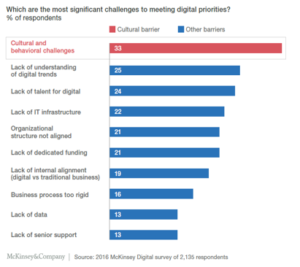 Digitalisation means faster and especially continuous change. Severe internal disruptions are very likely impacting fundamentally how your people interact and do their job. Research shows that resistance can be especially strong among middle managers.
"The financial losses resulting from failed digital strategy implementation are tremendous,
not to mention the operational and emotional disruption caused to your organization and its people"
The future of 'Human Work' will focus on imagination, creativity, and strategy. Everything we learn and do should be different from machines, the importance of soft skills grows. A new mix of talent and skills is required with a clear demand for three different types of people: "quants", "digital natives" and "suits".
Moreover, a new type of leadership is required called 'systems leadership', which does not just mean leading on the design of the technologies themselves but also acting as a leader on how they are governed and the values they exhibit in how they affect people from all backgrounds.
In a digital world, dealing with cultural, leadership, organisation and change challenges is no longer optional.
Managing the irrational human mind is a non-negotiable.
Human challenges manifest especially during the execution of your digital transformation. Ego's, fears, self-doubt, biases, fantasies and (often unchecked) assumptions will heavily impact the motivation and focus, decisions, actions and the adoption to digital change.
"No digital strategy can afford to neglect emotional and psychological factors,
because it ultimately deal with people."
Wherever there is a lack of emotionally incisive leadership, employees will tend to fall back on the basic human instinct of self-preservation which might be the death of a digital strategy.
Moreover, managing collective emotions is proven to be important especially in times when people are dominated by fear that the future is uncertain and will only get worse. Leaders need to align their words with their actions to inspire constructive emotions such as passion, hope and self-worth.
Digitalization presents a great opportunity to humanize your business
The good new is that your digital journey presents a great opportunity for cultural, leadership, organisational work. Introducing re-directions in these areas as part of a digital transformation might sort out critical work you have sought for years but for which you never had the context.
B15 partners with companies to:
Take a pro-active stance on culture and embed behaviors with rigor and discipline.
Increase leadership alignment, team effectiveness and build capabilities to deal with (collective) emotions.
Create commitment to your digital strategy from within the organization, and deal with complacency and resistance throughout the implementation.
Define your future workforce and build a plan to transition towards the required capabilities, attitudes and mindset.
Re-position HR towards a vital force for digital change focusing on emotion-based leadership, culture and engagement.
"Your digital journeys presents a great opportunity to humanize your business"