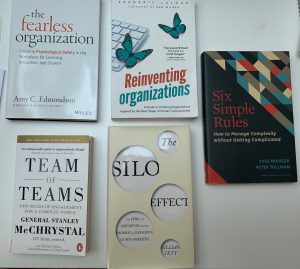 Team of Teams: New Rules of Engagement for a Complex World
When General Stanley McChrystal took command of the Joint Special Operations Task Force in Iraq in 2003, he quickly realized that conventional military tactics were failing. The allied forces had a huge advantage in numbers, equipment and training – but none of the enemy's speed and flexibility.
McChrystal and his colleagues discarded a century of conventional wisdom to create a 'team of teams' that combined extremely transparent communication with decentralized decision-making authority. Faster, flatter and more flexible, the task force beat back al-Qaeda.
In this powerful book, McChrystal and his colleagues show how the challenges they faced in Iraq can be relevant to any leader. Through compelling examples, the authors demonstrate that the 'team of teams' strategy has worked everywhere from hospital emergency rooms to NASA and has the potential to transform organizations large and small.
The Silo Effect: The Peril of Expertise and the Promise of Breaking Down Barriers
Award-winning journalist Gillian Tett applies her anthropologist's lens to the problem of why so many organizations still suffer from a failure to communicate. It's a profound idea, richly analyzed" (The Wall Street Journal), about how our tendency to create functional departments—silos—hinders our work.
The Silo Effect asks a basic question: why do humans working in modern institutions collectively act in ways that sometimes seem stupid? Why do normally clever people fail to see risks and opportunities that later seem blindingly obvious? Why, as Daniel Kahnemann, the psychologist put it, are we sometimes so "blind to our own blindness"?
Gillian Tett, "a first-rate journalist and a good storyteller" (The New York Times), answers these questions by plumbing her background as an anthropologist and her experience reporting on the financial crisis in 2008. In The Silo Effect, she shares eight different tales of the silo syndrome, spanning Bloomberg's City Hall in New York, the Bank of England in London, Cleveland Clinic hospital in Ohio, UBS bank in Switzerland, Facebook in San Francisco, Sony in Tokyo, the BlueMountain hedge fund, and the Chicago police. Some of these narratives illustrate how foolishly people can behave when they are mastered by silos. Others, however, show how institutions and individuals can master their silos instead.
Reinventing Organizations: A Guide to Creating Organizations Inspired by the Next Stage of Human Consciousness
The way we manage organizations seems increasingly out of date. Deep inside, we sense that more is possible. We long for soulful workplaces, for authenticity, community, passion, and purpose.
In this groundbreaking book, the author shows that every time, in the past, when humanity has shifted to a new stage of consciousness, it has achieved extraordinary breakthroughs in collaboration. A new shift in consciousness is currently underway. Could it help us invent a more soulful and purposeful way to run our businesses and nonprofits, schools and hospitals?
A few pioneers have already cracked the code and they show us, in practical detail, how it can be done. Leaders, founders, coaches, and consultants will find this work a joyful handbook, full of insights, examples, and inspiring stories.
Six Simple Rules: How to Manage Complexity without Getting Complicated
Does your organization manage complexity by making things more complicated? If so, you are not alone.
According to The Boston Consulting Group's fascinating Complexity Index, business complexity has increased sixfold during the past sixty years. And, all the while, organizational complicatedness—that is, the number of structures, processes, committees, decision-making forums, and systems—has increased by a whopping factor of thirty-five. In their attempt to respond to the increasingly complex performance requirements they face, company leaders have created an organizational labyrinth that makes it more and more difficult to improve productivity and to pursue innovation. It also disengages and demotivates the workforce.
Clearly it's time for leaders to stop trying to manage complexity with their traditional tools and instead better leverage employees' intelligence. This book shows you how and explains the implications for designing and leading organizations.
The way to manage complexity, the authors argue, is neither with the hard solutions of another era nor with the soft solutions—such as team building and feel-good "people initiatives"—that often follow in their wake. Based on social sciences (notably economics, game theory, and organizational sociology) and The Boston Consulting Group's work with more than five hundred companies in more than forty countries and in various industries, authors Yves Morieux and Peter Tollman recommend six simple rules to manage complexity without getting complicated.
Showing why the rules work and how to put them into practice, Morieux and Tollman give managers a much-needed tool to reinvigorate people in the face of seemingly endless complexity. Included are detailed examples from companies that have achieved a multiplicative effect on performance by using them.
It's time to manage complexity better. Employ these six simple rules to foster autonomy and cooperation and to effectively handle business complexity. As a result, you will improve productivity, innovate more, reengage your workforce, and seize opportunities to create competitive advantage.
The Fearless Organization: Creating Psychological Safety in the Workplace for Learning, Innovation, and Growth
This book offers practical guidance for teams and organizations who are serious about success in the modern economy. With so much riding on innovation, creativity, and spark, it is essential to attract and retain quality talent – but what good does this talent do if no one is able to speak their mind? The traditional culture of "fitting in" and "going along" spells doom in the knowledge economy. Success requires a continuous influx of new ideas, new challenges, and critical thought, and the interpersonal climate must not suppress, silence, ridicule or intimidate. Not every idea is good, and yes there are stupid questions, and yes dissent can slow things down, but talking through these things is an essential part of the creative process. People must be allowed to voice half-finished thoughts, ask questions from left field, and brainstorm out loud; it creates a culture in which a minor flub or momentary lapse is no big deal, and where actual mistakes are owned and corrected, and where the next left-field idea could be the next big thing.
This book explores this culture of psychological safety, and provides a blueprint for bringing it to life. The road is sometimes bumpy, but succinct and informative scenario-based explanations provide a clear path forward to constant learning and healthy innovation.
Explore the link between psychological safety and high performance
Create a culture where it's "safe" to express ideas, ask questions, and admit mistakes
Nurture the level of engagement and candor required in today's knowledge economy
Follow a step-by-step framework for establishing psychological safety in your team or organization