Saskia Van Uffelen, Digital Champion Belgium, conducted in close collaboration with Geert Vercaeren (Founder B15) a research project to understand 'Digital-in-the-mind of the CEO'.
Why this barometer on 'Digital-in-the-mind of the CEO'?
Because we strongly believe the CEO's behavior significantly impacts the success of implementing digital agenda's in organizations.
We wanted to map the digital readiness of Belgian organizations and share thoughts, practices, critical success factors and challenges to make them (more) digital ready.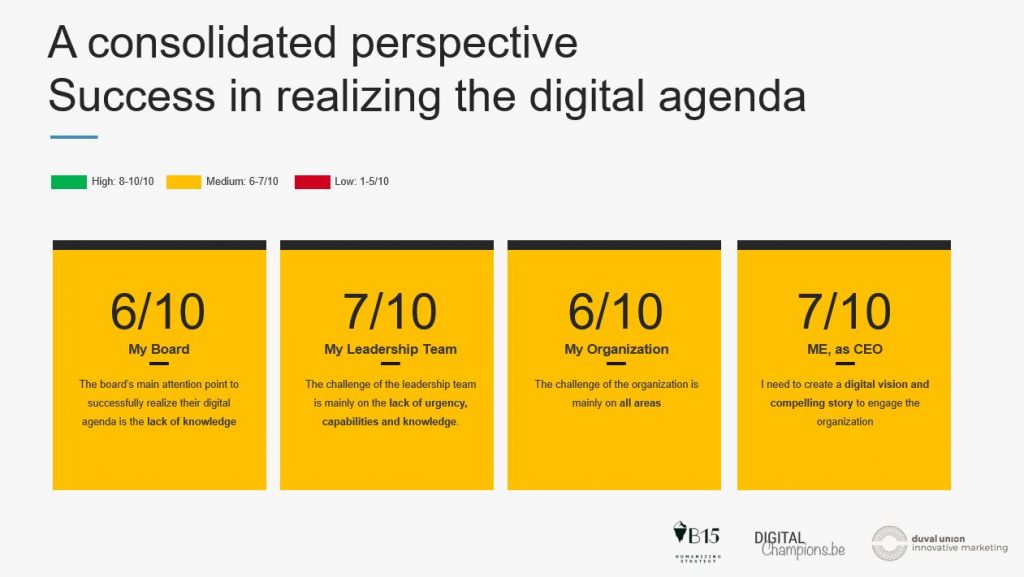 Our research reveals interesting findings on 'Digital-in-the-mind of the CEO':
Overall, Digitalization is perceived by the CEO's interviewed as something positive and not threatening; the (upcoming) era of technological heydays creates interesting opportunities.
65 % of the CEO's interviewed have a very cautious approach to digital disruption (digitalization) based on small initiatives.
The CEO's interviewed consider themselves (as CEO) and the leadership team as 'medium' successful in realizing the digital agenda. The board and organization are considered as less successful.
Key challenges are related to the sense of urgency, the lack of knowledge and capabilities to realize the digital agenda.
Digitalization also requires more radical customer-centricity, co-creation with customers in particular.
CEO's also mention the importance to better co-create internally, to break down silo's between departments and combine multi-disciplinary, transversal forces within the organization.
Strategic alliances and teamwork are the most critical values to realize the digital agenda. The values continuous learning and customer satisfaction are 'needed more' by the highest percentage of CEO's in order to make the realization of the digital agenda a success.
Digitalization is seen as a continuous change process. The key challenges are mostly people related requiring a fundamental shift in the mindset and continuous learning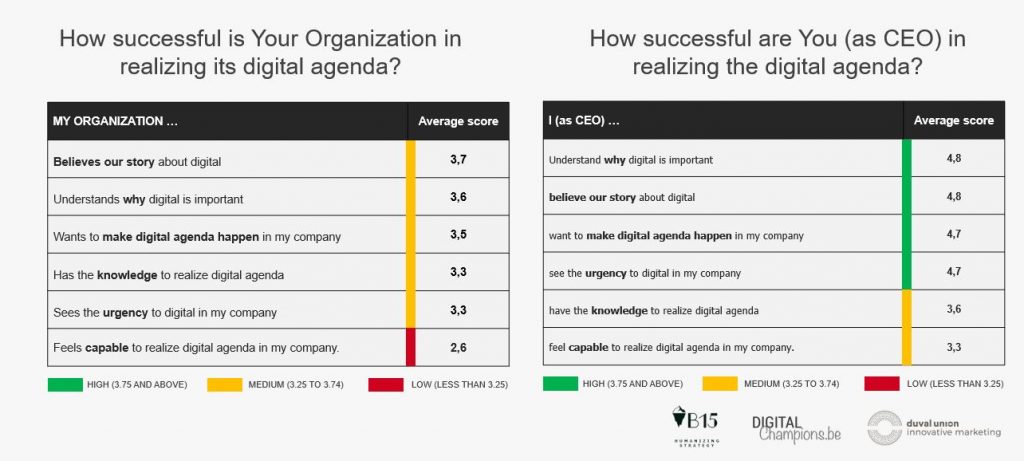 About the authors:
Saskia Van Uffelen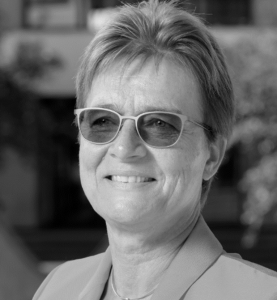 Saskia has been working in the sector of information and communication technology (ICT) for over 25 years. She has held national and international sales and marketing functions in leading companies such as Xerox, Compaq, HP, Arinso, Bull and Ericsson.
Since 2012, the federal ministry of economic affairs appointed Saskia Van Uffelen as 'Digital Champion' for Belgium representing the European Commission. To stimulate the roll out of the Digital Agenda in Belgium she sensitizes all parties involved in 5 areas: Digital Economy, – Government, – Infrastructure, – Security and – Skills.
As a manager, Saskia Van Uffelen always keeps a keen eye on the human aspects of collaboration in a company. She focusses heavily on ensuring the synergies between the different generations present in the workplace. In interviews, opinion articles and her book 'Iedereen Baas! – Tous Patron!' she encourages her colleagues to pay more attention to it as well.
As a role model she received various awards (among others 'ICT Woman of the Year' in 2011(Data News), Leadership Award 2019 (Etion)). Saskia Van Uffelen is married and a mother of five.
Geert Vercaeren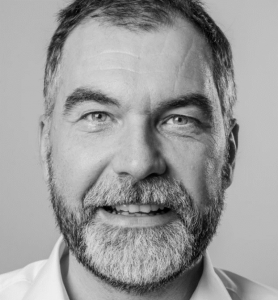 Geert is the founder of B15, a consulting firm dedicated to humanizing strategies.
He is a senior business consultant and coach with more than 25 years of experience in leading complex business transformation, organization development and HR transformation projects. Geert works in close partnership with many corporations, public institutions and venture capitals, as well as family businesses and small and
medium-sized enterprises.
In all of his work, Geert starts his project from the challenge and ambitions at business level and in addition integrates psychologically-informed approaches focusing on underlying motivational forces, deeper sources of energy and behavioral patterns. He strongly beliefs it is key to understand deeper motivations and resistance to change and to uncover and tackle the root of potential dysfunction rather than simply deal with its manifestations.
He holds an MA degree as a Commercial Engineer, an Executive MA degree in Clinical Organizational Psychology from INSEAD and a Co-active® Coaching certificate from The Coaches Training Institute.
Geert is passionate about shaping, implementing and leading sustainable transformation programs to improve performance, build capabilities, and strengthen behavior.