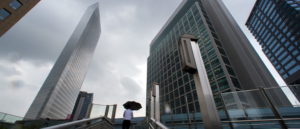 An LRN's PEI study demonstrates that companies with the highest levels of ethical behavior are the ones that have placed values at the center of their organizations.
Michael Eichenwald stresses that among high-performing companies, two-thirds are increasingly focusing on values instead of rules. That compares with one in three of the lowest-performing companies. In fact, the highest-performing organizations in  have elevated human values to such an extent that more than 90% of those values have become part of the company's brand appeal. In 70% of high-performing organizations, values have also become a business enabler, providing a reference point for the tough decisions, and in turn leading to better decision-making.
At the same time, the report found that too few companies are stepping up to take responsibility when their employees fall short. For example,  in too many cases there is an underlying resistance to seeking the root causes of misconduct. Specifically, fewer than half (47%) of low-performing companies bothered to determine accountability in instances of executive and employee misconduct. Moreover, organizations too often fail to walk the talk, with 55% of low-performing organizations saying C-level executives do not consider ethical behavior a prerequisite for promotion.
Five steps
In short, the data gathered by LRN suggests that companies that assess the capacity for and inspire greater ethical decision-making, organizational justice and freedom of expression are much more effective at delivering on expectations, fair play and appropriate conduct than those governed only by a checklist of rules and multiple layers of policy and controls. And that means business leaders looking for an edge must take these five steps:
1. Assess what is wrong: Bring real business rigor to the metrics, reporting and assessment of what works and what doesn't in ethics and compliance by engaging in a deep, wide-ranging analysis of organizational culture, manager conduct and employee behavior.
2. Catalyze new ways of leading: Surface and share the beliefs that sit at the core of how you want your organization to operate, and delineate the leadership behaviours that best exemplify those beliefs in action. Don't stop with senior leaders; enlist middle management as the key drivers of what really happens within a business.
3. Formulate and use more effective frameworks: Embed the tools and frameworks people in your organization use to make decisions with the highest expectations of good conduct and hold people accountable for using these tools effectively and consistently.
4. Rethink communications and policy accessibility: A checklist of rules and multiple layers of policy is not enough. Introduce clear, values-based policies that excite and engage employees with their possibility.
5. Innovate when you educate: Don't rest on a "one and done approach" of annual training; instead, consistently seek to introduce new and different ways of engaging that takes advantage of best practice in approaches to adult education.
Embedding values into the core of an organization is no easy task. But the outcome will be worth it: a human organization inspired by purpose, based on values and led with moral authority. In other words, just the organization Schwab prescribes for the Fourth Industrial Revolution.